Chef's Specialties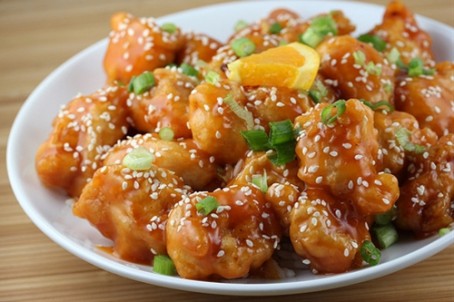 Jumbo Shrimp Sauteed with Spicy Red Pepper
Sesame Chicken
Chunks of crispy chicken sauteed in the chef's special sauce with broccoli, pea pods and showered with toasted sesame seeds.
Delights of Three
Tender sliced chicken, large shrimp and beef with assorted vegetables.
Hunan Beef
Chunks of beef sauteed in Hunan sauce with broccoli, fresh mushrooms and baby corn.
Kung Pao Three Delights
Beef, sliced chicken and large shrimp with Szechuan spicy sauce.
Seafood Sizzling Platter
Large shrimp, sliced fish filet and scallops exquisitely flavored with assorted vegetables, served on a hot platter.
Yu-Shiang Scallops
Scallops sauteed with pea pods, water chestnuts, baby corn and Chinese bok choy in Yu-Shiang sauce.
General Gau's Chicken
Cubes of chicken coated with water chestnuts, flour and eggs, deep fried until crispy, and cooked with hot ginger sauce.
House Special Spicy Beef
Sliced beef sauteed in a spicy sauce with green peppers, celery and baby corn.
Crispy Shrimp with Hot Sauce
Crispy shrimp with spicy sauce and broccoli on the side.
Sun Moon and Stars
Sliced white meat chicken, large jumbo shrimp and broiled scallops sauteed with broccoli, fresh mushrooms, baby corn, carrots and pea pods in a delicious sauce.